Message from "Ministry of Civil Aviation"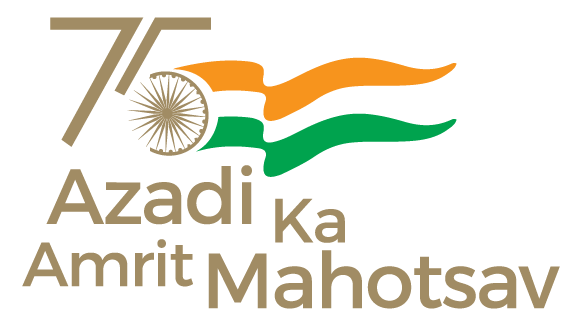 Development of Ayodhya Airport to be completed by September 2023

The airport is being developed at a cost of Rs.350 Cr. (approx.) and it will be suitable for the operation of A-321/B-737 type of Aircraft.

The New interim Terminal Building will have an area of 6250 sqm, able to handle 300 passengers during peak hours
Posted On: 30 JUN 2023 7:43PM by PIB Delhi
The development of Ayodhya Airport is expected to be completed by September 2023. The new Airport will be suitable for the operation of A-320/B-737 type of Aircraft and is being developed at the cost of Rs.350 crores (approximately).
The development work includes an extension of the existing runway from 1500m X 30m to 2200m x 45m for the operation of Code -C type of aircraft under IFR condition, an Interim Terminal Building, an ATC Tower, a Fire Station, Car parking, new Apron for parking 03 nos. Code 'C' type of aircraft. and allied city-side and airside infrastructure.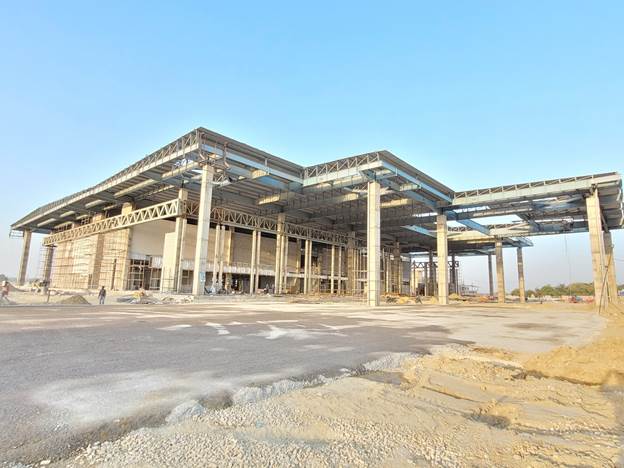 The New interim Terminal Building having an area of 6250 sqm is equipped to manage 300 passengers during peak hours. Passengers' facilities include 08 check-in-counters, 03 conveyor belts (01 in Departure and 02 in Arrival Hall), Car parking for seventy-five cars & 02 nos. bus parking. The Airport will be PRM (Passenger with reduced mobility) compliant.
The Terminal Building of the airport is equipped with various sustainability features like Double Insulated Roofing System, Provision of Canopies for energy saving, LED Lighting, Low Heat Gain Double Glazing Unit, Rainwater Harvesting to recharge the groundwater table, Landscaping with fountains, HVAC, Water treatment plant, Sewage treatment plant and use of recycled water for landscaping, a solar power plant with capacity of 250 KWP has been provided to meet GRIHA –V ratings. The Terminal has been designed to integrate the culture and heritage of Ayodhya, State of Uttar Pradesh, creating a sense of place for the visitors.
The façade of Terminal Bldg. (both on the city side & Airside) depicts the temple architecture of the upcoming Ram temple of Ayodhya. The Proposed Terminal Building portrays the Grand Ram Mandir, which will offer a sense of spirituality to the visitors. The architectural elements of the Terminal are proposed to be adorned with Shikhars of varying heights to convey a sense of grandeur to the structure. Along with the varying shikhara, the Terminal will have decorative columns to enhance the fascia of the Terminal Building. The decorative colonnade will offer an immersive experience for the passengers and visitors as the interiors of the New Terminal Building are being designed to be decorated with local art, Paintings & Murals depicting the life cycle of Bhagwan Sri Ram.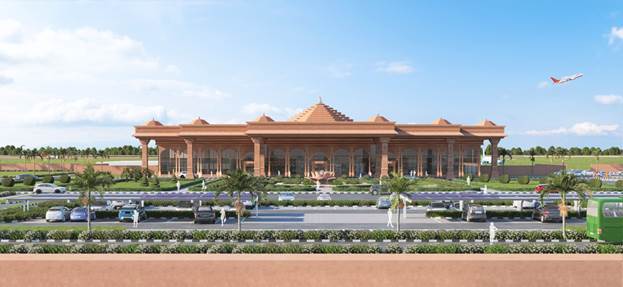 Sharing his views on the development work going on at the airport, Sh Jyotiraditya M. Scindia, Union Minister of Civil Aviation and Steel, said that "Development work at Ayodhya Airport showcases Prime Minister Shri Narendra Modi Ji's visionary approach to drive progress in India's infrastructure. This state-of-the-art airport symbolises our commitment to enhance air connectivity and promote tourism in the holy city of Ayodhya. Under the leadership of PM Modi, this project will not only boost regional development but also honour the rich cultural heritage associated with Lord Ram. I am confident that the airport will pave the way for Ayodhya's growth and prosperity." The Minister also tweeted on the progress being made at the airport. Tweet can be viewed here: https://twitter.com/JM_Scindia/status/1674041653487886337?s=20